At one time, artificial intelligence, data-driven marketing and voice search engine optimization (VSEO) were ambitious concepts bordering on the ridiculous. Today, these innovative digital marketing trends are among the top priorities for most business owners in 2021.
And why wouldn't they be? After all, if your business has any intention of remaining competitive in today's online landscape, you must adapt to the rapidly evolving changes in digital marketing. As Brian Solis puts it:
"Each business is a victim of Digital Darwinism, the evolution of consumer behaviour when society and technology evolve faster than the ability to exploit it. Digital Darwinism does not discriminate. Every business is threatened."
let's run down the top 10 digital marketing trends for 2021.
1. Ai Optimization
Artificial intelligence is the simulation of human intelligence processes by machines, especially computer systems. Specific applications of AI include expert systems, natural language processing, speech recognition and machine vision. 
How does AI work?
As the hype around AI has accelerated, vendors have been scrambling to promote how their products and services use AI. Often what they refer to as AI is simply one component of AI, such as machine learning. AI requires a foundation of specialized hardware and software for writing and training machine learning algorithms. No one programming language is synonymous with AI, but a few, including Python, R and Java, are popular.
In general, AI systems work by ingesting large amounts of labelled training data, analyzing the data for correlations and patterns, and using these patterns to make predictions about future states. In this way, a chatbot that is fed examples of text chats can learn to produce lifelike exchanges with people, or an image recognition tool can learn to identify and describe objects in images by reviewing millions of examples.
AI programming focuses on three cognitive skills: learning, reasoning and self-correction.
Learning processes. This aspect of AI programming focuses on acquiring data and creating rules for how to turn the data into actionable information. The rules, which are called algorithms, provide computing devices with step-by-step instructions for how to complete a specific task.
Reasoning processes. This aspect of AI programming focuses on choosing the right algorithm to reach the desired outcome.
Self-correction processes. This aspect of AI programming is designed to continually fine-tune algorithms and ensure they provide the most accurate results possible.
Why is artificial intelligence important?
AI is important because it can give enterprises insights into their operations that they may not have been aware of previously and because, in some cases, AI can perform tasks better than humans. Particularly when it comes to repetitive, detail-oriented tasks like analyzing large numbers of legal documents to ensure relevant fields are filled in properly, AI tools often complete jobs quickly and with relatively few errors.
This has helped fuel an explosion of inefficiency and opened the door to entirely new business opportunities for some larger enterprises. Prior to the current wave of AI, it would have been hard to imagine using computer software to connect riders to taxis, but today Uber has become one of the largest companies in the world by doing just that. It utilizes sophisticated machine learning algorithms to predict when people are likely to need rides in certain areas, which helps proactively get drivers on the road before they're needed. As another example, Google has become one of the largest players for a range of online services by using machine learning to understand how people use their services and then improving them. In 2017, the company's CEO, Sundar Pichai, pronounced that Google would operate as an "AI-first" company.
Today's largest and most successful enterprises have used AI to improve their operations and gain an advantage over their competitors.
What are the advantages and disadvantages of artificial intelligence?
Artificial neural networks and deep learning artificial intelligence technologies are quickly evolving, primarily because AI processes large amounts of data much faster and makes predictions more accurately than humanly possible.
While the huge volume of data being created on a daily basis would bury a human researcher, AI applications that use machine learning can take that data and quickly turn it into actionable information. As of this writing, the primary disadvantage of using AI is that it is expensive to process the large amounts of data that AI programming requires.
Advantages
Good at detail-oriented jobs;

Reduced time for data-heavy tasks;

Delivers consistent results; and

AI-powered virtual agents are always available.
Disadvantages
Expensive;

Requires deep technical expertise;

A limited supply of qualified workers to build AI tools;

Only knows what it's been shown; and

Lack of ability to generalize from one task to another.
2. Programmatic Advertising
Programmatic advertising means using AI to automate ad buying so you can target more specific audiences. Real-time bidding, for example, is a type of programmatic ad buying. This automation is much more efficient and fast, which means higher conversions and lower customer acquisition costs.
It's changing the face of digital advertising so swiftly that, according to eMarketer, 86.2% of digital display ads in the U.S. will be programmatic by 2020.
According to Irina Kovalenko of SmartyAds:
"Most search-driven manual advertising campaigns (even those performed with professional tools) take into account three or four targets: the keyword, time of day, and location. Such tools like programmatic demand-side platforms can use hundreds of targeting signals to individualize the advertisement and even target according to lifestyle or behaviour habits when integrated with customer data platforms."
Here's a quick look at how programmatic advertising works: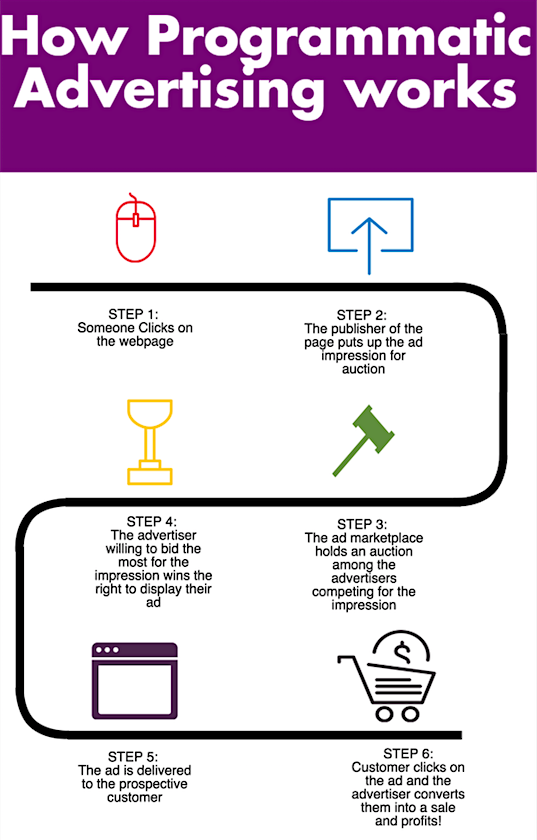 To learn how to capitalize on this digital marketing trend, check out PPC Hero's guide to get started.
3. Chatbot
Chatbots will continue to be an important part of digital marketing in 2021. This AI-based technology uses instant messaging to chat in real-time, day or night, with your customers or site visitors.
Surveys show that:

Many customers prefer interacting with chatbots as they are responsive 24/7, give answers promptly, accurately recall your entire buying history, and never lose patience. These virtual assistants offer outstanding customer service by meeting customers' expectations and automating repetitive tasks – which means that you can focus on more important work.
Many brands already use chatbot technology, including rideshare brand Lyft. You can request a ride from Lyft via chat (Facebook Messenger and Slack) or voice (Amazon Echo), and their chatbot will let you know the current location of your driver: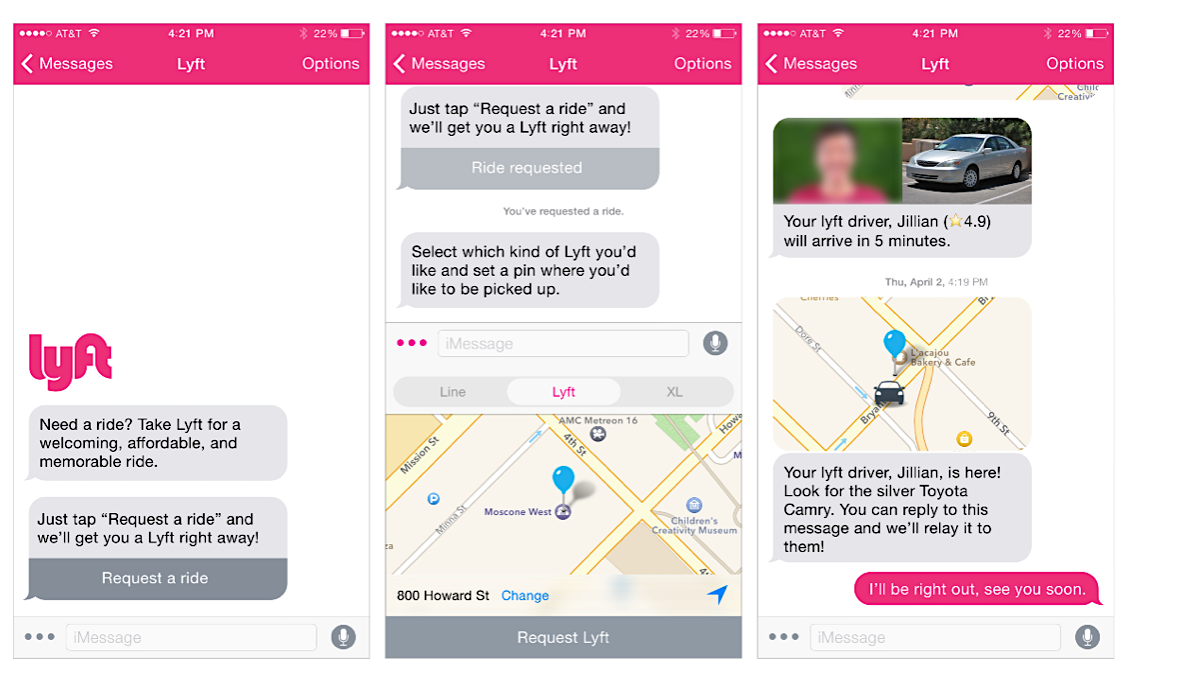 Passengers can use the app to choose the type of ride, make a request, track the location of the car, send friends a time estimate of their arrival, and make payment.
Other brands that are successfully using chatbot technology include Whole Foods Market, Fandango, Sephora, Staples, The Wall Street Journal and Pizza Hut.
4. Conversational Marketing
With all that talk about chatbots, the reality of modern marketing becomes clear: it's more conversational. People want it that way, and so brands are reacting. When consumers have a question, 82% want an "immediate" response.
Conversational marketing facilitates a one-to-one, real-time connection between marketers and customers: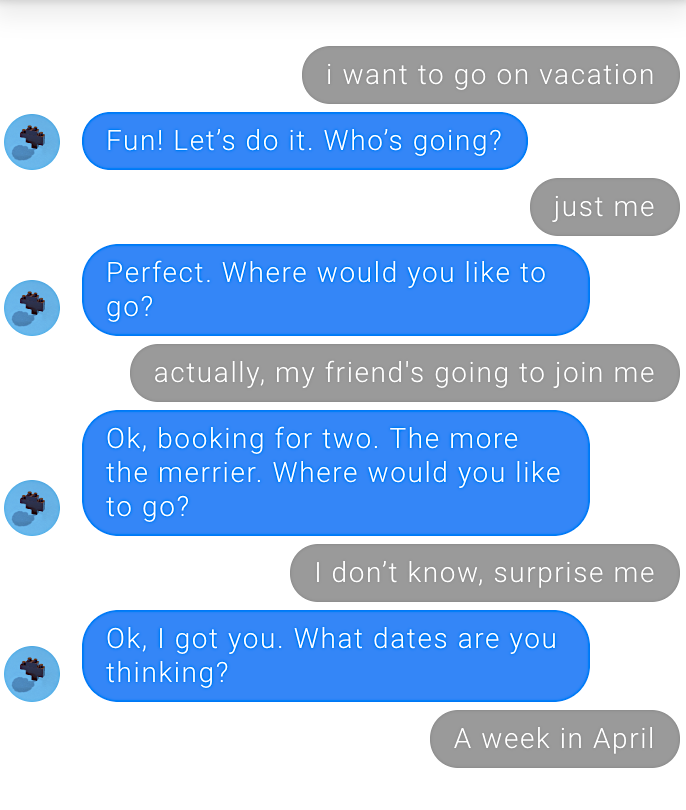 Conversational marketing is marketing that talks to consumers. This can be done through live chat, chatbots, voice assistants or other forms of conversational AI. These experiences can be positioned on websites, social media channels, paid to advertise and even in physical stores or connected home devices (like smart speakers). 
This seems like sales, so how is this marketing? Well, marketing that talks to people is fundamentally new. Conversational marketing allows you to turn things that are traditionally seen as marketing materials and make them interactive. In all marketing, engagement and conversion are critical. With conversational marketing, they become easier than ever before. 
What is Conversational Marketing for Ads?
Conversational marketing in ads can be positioned on almost any domain. Google, with select partners, offers conversational display advertising through their DV360 network. Eventually, this kind of format will reach billions of websites.
Click-to-Messenger ads have also become popular on Facebook. These are similar to conversational display ads, except they show users traditional Facebook newsfeed ads and then drive users to facebook's messenger app or interface. From there, brands prompt consumers with questions or experiences related to the content of the ad, and then they're able to interact and learn more about them and drive them to convert. 
5. Personalization
If you want to stand out in 2021, you need to personalize your marketing – and that means personalized content, products, emails and more.
Consider these personalization stats:
63% of consumers are highly annoyed with generic advertising blasts

80% say they are more likely to do business with a company if it offers personalized experiences

90% claim they find personalization appealing
Kevin George from EmailMonks asserts that "personalized, triggered emails based on behaviour are 3x better than batch-and-blast emails."
When you want to study examples of the power of personalization, it's hard to overlook Netflix and Amazon, with their tailored recommended products or movie titles. Here are a few other companies that are successfully using personalization today:
EasyJet launched a data-driven email campaign that uses customers' travel history with the airline to build personalized stories, which then suggest where they might like to travel next. About 12.5 million unique emails have been sent, which had a 25% higher click-through rate than non-personalized emails.
Cadbury's created a personalized video campaign that matches a Dairy Milk flavor with users based on data from their Facebook profile, including age, interest and location. The campaign generated a 65% click-through rate and a 33.6% conversion rate, proving that the personal touch works.
Starbucks uses a gamified mobile app that draws on data like purchase history and location to get as personal as possible, allows customers to customize their drinks, and encourages further use with its rewards system – which skyrocketed their revenue to $2.56 billion: